The rising trend in private sailing holidays
Sailing the high seas of the world, from Greece to Indonesia.
The allure of sailing and yachting
Private sailing holidays have been making waves as the last couple of years have seen an enormous uptake in these ultra-luxurious holidays. Visions of supervillains, billionaires and Bond-like figures standing on the bow of a yacht made us once imagine that these trips weren't in reach – but this is no longer. People are really pushing the boat out and embarking on ultra-exclusive holidays as they become ours for the taking.  After over a year of restrictions, our hunger for bigger and better holidays has multiplied and the exclusive positives of sailing trips have caused them to skyrocket to the top of our bucket lists. A rising exemplar of the "soft-adventure", sailing trips are attracting holidaymakers with their perfect mix of sun-kissed luxury and out-of-the-ordinary experiences. After endless months of restraint, the world is ready to grab life by the horns and seize every opportunity as it comes, without compromise.
The unbridled freedom of exploring the open water at your wish is a luxury gifted only to private sailing holidays. Unlike following a particular route on land, sailing gives a surge in freedom and opportunities for exploration. It's up to you – follow an itinerary designed to take you to the must-see sites or follow your every whim, choosing exactly where you wish to go and when. Without being tied to schedules, set sail into the cerulean waters with your own plan or none at all. Sailing holidays are what you make them – days of discovery and nights in bustling towns or mornings exploring the water and evenings sipping cocktails under the warm glow of the sunset. Anchor by a secluded cove for a morning swim, stumble upon hidden villages oozing island charm and dine on glorious al fresco terraces.
Our busy schedules are leaving us with limited time and longings to explore new places. People are looking to visit groups of islands all in one go, with popular routes including starting in Athens for an exploration of the Saronic Islands and beginning in Dubrovnik before touring the Adriatic. A particular highlight of whichever route you may take, revel in destinations only accessible by boat, with the luxury of arriving in a different glorious port of call each morning.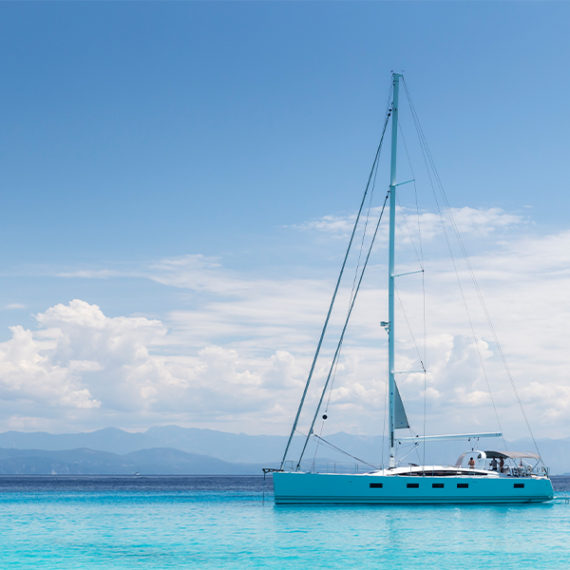 Unlike following a particular route on land, sailing gives a surge in freedom and opportunities for exploration.
Image: Private yacht in Corfu
A definite reason for the rising trend in luxury sailing holidays is that they allow us all to climb aboard and get a taste of the high life. Experience extreme exclusivity and luxury in some of the world's most spectacular destinations as you glide from rocky coastlines to white sandy beaches, stopping off at uninhabited islands and quaint harbour villages. As your private skipper follows your command and your host takes care of your every need, relish the warm breeze and hot sun, knowing everything is taken care of.
A year of restraint has brought us closer to life's intrinsic luxuries, whether that be abundant leisure-time, uninterrupted moments with our loved ones or the peaceful beauty of nature. Reflected in our holiday choices, embarking on a sailing holiday takes you both back to basics and to supreme luxury – in equal measure. Days spent in the company of family and friends and taking in some of the world's most stunning vistas reminds you what life is all about.
With today's ever-changing set of standards and guidelines, people are eager to escape rules and regulations. Sailing the turquoise seas in complete privacy, surrounded by people you know and love relieves this burden. Explore magnificent destinations every day and retreat to the luxuries of your private boat in the evening.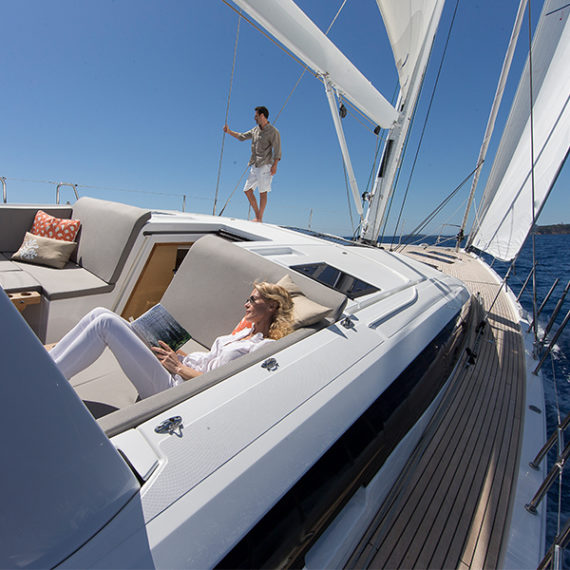 Experience extreme exclusivity and luxury in some of the world's most spectacular destinations.
Image: relaxing on board Jeanneau 64
The best places to experience private sailing holidays.
Greece is a sailor's dream.
Greece offers some of the best sailing opportunities in the world, with an assortment of beautiful archipelagos and groups of islands. The Saronic Islands are a great choice to see the best of Greece. From gentle winds to bustling villages and tasty tavernas, embark on a sailing holiday of quintessential Greece. The Cycladic Islands are home to some of the most picturesque and iconic islands in all of Europe, with Santorini and Mykonos holding celebrity status. Those looking to venture a little further are often attracted to the Cyclades' hidden islands and secret coves, backdropped by the famous, blue-domed churches and sugar-white villages. A little less frequented and off the beaten track are the Dodecanese Islands, along the coast of Turkey in the Aegean Sea. Celebrated for their medieval castles, Byzantine Churches and ancient archaeological sites, the Dodecanese Islands offer much to explore as well as endless sandy beaches and pretty coves.
Croatia's allure.
The mounting appeal of Croatia's coastline is both undeniable and understandable; its pristine waters, orange-capped medieval towns and rugged coastline have caught the world's attention. With picturesque fishing villages, gorgeous white-sand beaches and clear turquoise waters, the Croatian archipelago is quickly becoming one of the most popular in Europe. The Dalmatian Coast, a string of Adriatic islands with rugged white cliffs submerged in tiffany-blue waters, promises days of endless relaxation and cultural discovery. Venturing south to Croatia's southern shoreline, stumble upon verdant isles, rugged shores, sparkling waters and a rich history.
Tropical bliss in Indonesia.
Further afield, Indonesia's archipelago is home to a spectacular group of islands. Komodo National Park is a playground for avid explorers who have a penchant for luxury, with mighty Komodo dragons, manta rays and turtles calling it home. Setting sail into the world-famous Coral Triangle brings you deep into the crystal-clear waters, through exotic savannah hills and mangroves. The area's reputation of being an incredible diving and snorkelling spot owes itself to the bounty of tropical fish and spectacular coral beneath the volcanic landscape.
A trend that is here to stay, our world is succumbing to life's simple pleasures and extravagant luxuries all at once, getting us ready to sail the high seas of Europe, Asia and beyond.
Greece | Croatia | Indonesia