The balance of luxury and authenticity.
A conversation with Cathy and Rick Edmonds, hosts of The Frames, South Australia
Our partners and good friends, Cathy and Rick Edmonds are owners of The Frames, a luxury retreat along the Murray River. We want to learn more about the success behind their phenomenal property which balances the unique Australian down-to-earth welcome with impeccable customer service and attention to detail.
The Frames lies in the very region Rick and Cathy grew up in, The Riverland. Situated northeast of Adelaide, it sits on the banks of the Murray River and is part of Australia's largest wine grape region. One of Australia's oldest living cultural landscapes, the Murray River became a home for tribes long before European settlement, making it an excellent destination for authentic aboriginal experiences as well as river cruises, canoeing and kayaking and of course, viticulture. Rick speaks fondly of his homeland; "We are citrus and wine grape growers. We have been all our lives. We're the third generation in the area. You know, we are very passionate about the Riverland, and that's probably one of the main reasons we ended up building The Frames, to be able to get different clientele to appreciate the beauty of the river." One of the most beautiful corners of Southern Australia, The Frames and The Riverland perfectly form part of a luxury self-drive holiday, combining Adelaide with the Barossa Valley and the Murray River. Alternatively, it can be explored on a road trip along the Great Ocean Road, from Melbourne to Apollo Bay, Port Fairy, Grampians National Park and the Murray River.
The Frames comprises three ultra-luxurious retreats set on a clifftop overlooking the Murray River in Southern Australia. The award-winning accommodation is a leader in opulent living, with spacious floor-to-ceiling retreats featuring private facilities including outdoor pools and spa facilities with infrared saunas. Cathy and Rick are some of the most inviting hosts we've ever encountered – and they're also some of the most invested. They have brought the retreats to life from inception; they've dug, they've laid bricks and installed electricity. Cathy laughs looking back on the start of The Frames and lovingly tells Rick that he's bloody mad. Rick laughs; "Bloody mad, yeah. But we're really passionate… but that's what guests love. The fact that we're there or that we're the ones that actually built it. And you know, it's our passion."
Let's begin with appreciating what Cathy and Rick love so very much; The Riverland, one of the biggest food bowls in the whole of Australia. Surrounding the luxury retreats are winegrowers, coffee makers, fishermen and culinary artisans. They're also Cathy and Rick's friends, and the neighbours encompass the togetherness of the Riverland. Undoubtedly, without the River Murray, there would not be The Frames. It's a love for the area that drives their passion to host guests, to celebrate The Outback and the true Aussie experience.
Cathy and Rick offer tailored excursions, which they own and run. This was their mission from day one, to control the quality of their immersive tours in The Outback. It allows them to have flexibility with clients, who are then able to amend or make changes to their itineraries. All guides are local, and Rick and Cathy form part of this team. Cathy says, "And in some of our tours, they end up going to the actual guide's home and that sort of interaction is what people really, really do love." Cathy and Rick both stress it's not the accommodation, it's the experiences that make it so special. They fondly introduce us to the Wetland Wildlife Safari in which they use a special boat to navigate the tour – a special boat that Rick designed. Cathy laughs, "So, Rick dreamt up this boat in the middle of the night. He calls it my boat, but I don't ever get a chance to go on it." Rick smiles and explains the journey; "We travel up through these little creeks just by ourselves. And you know, Cath always makes homemade chocolate slices that we have with a coffee. We've already got a guide that's already there who sets up a barbecue out in the middle of nowhere. They're expecting to have a sandwich or something and he's dressed up in a Frames leather apron." The guides are then treated to a tasting of locally foraged and farmed produce, a sensational outdoor meal that is the true essence of an Aussie Outback experience.
It's wonderful how fondly Cathy and Rick speak about their guests and the small but big gestures of hospitality they perform. We move on to another excursion which involves celebrating their neighbours, producers of the Riverland. They speak of Callum's coffee shop, the vineyards and the neighbouring cod farm, whose host always manages to fascinate guests with his down to earth approach. Rick says "it's all about people and it's all about locals, and it's about your guests interacting with them and hearing their stories. That's really what it's about and that's what they love." Guests learn about Callum who was once a full-time builder but gave it up to roast coffee in the nearby converted fire station. Not only do guests taste the excellent coffee, but they listen to a story of a young man who changed his life in response to his passion. The same goes for the local cod farmer, it isn't so much about the specific produce that fascinates, but the story behind the producer. Cathy tells us that the experience ends at the Riverland Wine Centre. "A brewery actually in a shearing shed. You can still smell the sheep, right on the river. You know it's just a beautiful outlook and really Australian." Rick lets us know that the experience doesn't always end there; "Then, depending on who's doing the guiding – one of the guides, Tony doesn't live far away so generally they'll end up there. He lives on some beautiful cliffs, and they'll pull up there for a drink before they come back home."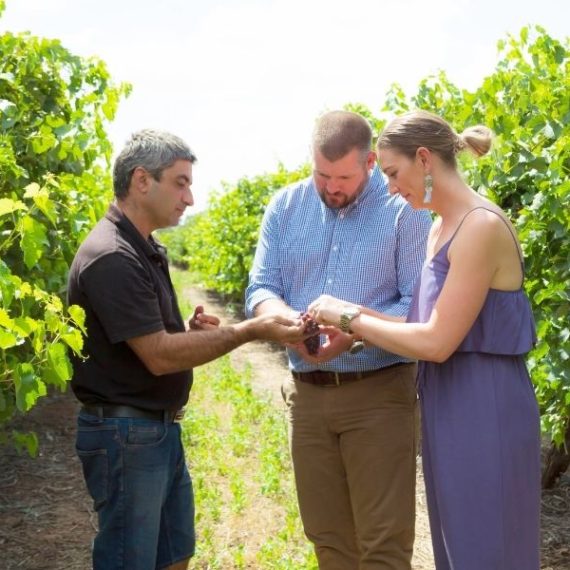 "it's all about people and it's all about locals, and it's about your guests interacting with them and hearing their stories."
Part of this experience includes appreciating Rick and Cathy themselves as producers. "And we end up at our property. You know, picking fruit, oranges off the trees, citrus off the trees. Or they come over and grape harvest all that sort of thing." From a citrus point of view, their families have been growing afora and imperial mandarins, minneola tangelos and navel oranges for generations. Cathy and Rick have recently started growing grapes and are producing chardonnay, cabernet sauvignon, shiraz and petit verdot. They've been pesticide-free for 18 years, which is an incredible achievement.
A true Aussie experience and perfectly paired with a glass of red, Rick and Cathy prepare gourmet barbecue packs for visitors to grill in their private state-of-the-art outdoor kitchens. For a little extra indulgence, a personal chef creates three-course offerings, made using fresh, seasonal and local produce, either delivered or prepared in-villa. Not only do they make wine from the grapes, supply fresh fruit and offer expertly prepared three-course dining, but Cathy creates homemade cakes using their seasonal produce which is a real treat for guests – it's the type of thing you bring home from a holiday, a warm feeling of being welcomed.
The latest tour added to their repertoire is the indigenous experience, where guests visit the nearby major sheep stations and wetlands. Alongside aboriginal guides, guests set out on wildlife watching expeditions before visiting an aboriginal lady who is responsible for preparing a saltbush damper for morning tea with quandong jam. Rick explains "But once again, you're out in the middle of nowhere, you know… It's just the guests going over the rolling hills and then you come across this lake. It's hard to explain until you actually get there."
In the midst of these sensational moments, guests return to the luxury of their retreat to bathe in pampered luxury. If preferred, one can simply enjoy the privacy of the retreat, but Cathy explains that overall, most lodgers are keen to enjoy the humbling Aussie lifestyle; it's what makes the holiday. The beauty lies in the fact that Rick and Cathy are so kind and so welcoming. Cathy says "we're only just basic human beings – we're not doing anything special; it's not rocket science. We're just making people happy." Little do they know how difficult it is to make people happy, and to provide such a spectacular and immersive holiday, which lies in the essence of hospitality; making people feel at home. OROKO would like to extend a huge thank you to Cathy and Rick, for providing us with a wonderful insight into The Frames and for making our clients feel truly special in the past. To learn more, please visit https://theframesluxuryaccommodation.com.au/.