Family memories in Ibiza
Young family looking for a glamourous destination they can enjoy with their two-year-old.
The Fairchild family contacted OROKO after hearing about us through some family friends. Having been avid explorers in the past, Tessa and Tom love holidays with a hint of glamour. Big fans of the beach club scene in Mykonos and with plenty of Dubai visits under their belt, they knew they needed to plan something a little more child friendly. For their first trip with their two-year-old, Ella, they wanted somewhere child-friendly, that still exuded the same glamour and liveliness of their previous holidays. With dreams of Ella playing in the sand, a beachside property was essential, and they also let us know they really would like to visit somewhere closer to home. With a flexible budget of €6,000, we got to work planning the perfect family getaway.
As fabulous as bustling nightlife can be, it is not ideal when you have a toddler travelling with you. For this reason, we wanted to present somewhere luxurious and peaceful for the Fairchild family. A short direct flight and a stylish, modern beach resort were top of our priority list, so we curated a holiday around the island of Ibiza, staying at the celebrated Nobu Hotel Ibiza Bay.  For family fun in the sun, the glamorous property's gorgeous sandy beach offered the perfect setting for Ella to play, and both parents would love the bohemian-style 'chiringuito' beach bar and the many other chic dining options. Bali beds bookable by the pools would offer the perfect shady spot to relax as a family. Further facilities at the resort include a cute playground and a dedicated kids' swimming pool.
We wanted to make this trip extra-special for Tessa and Tom, so we suggested a unique experience that we knew they would love. Ibiza is known for its stunning coves and beaches and the best way to experience this is by boat. We recommended they take a private boat out for a day to sail the waves and explore the rugged coast of the island as a family. They loved the idea, so we arranged everything from private transfers to a decadent picnic lunch.
We met Tessa, Tom and little Ella in our Clonskeagh office to discuss the suggested itinerary and discuss any tweaks they may like to make. They were pleasantly surprised to find that they could still visit destinations such as Ibiza and were really excited about the prospect of their first family holiday.
Beautiful surroundings & settings of Nobu Ibiza
Elegant interiors and shared spaces.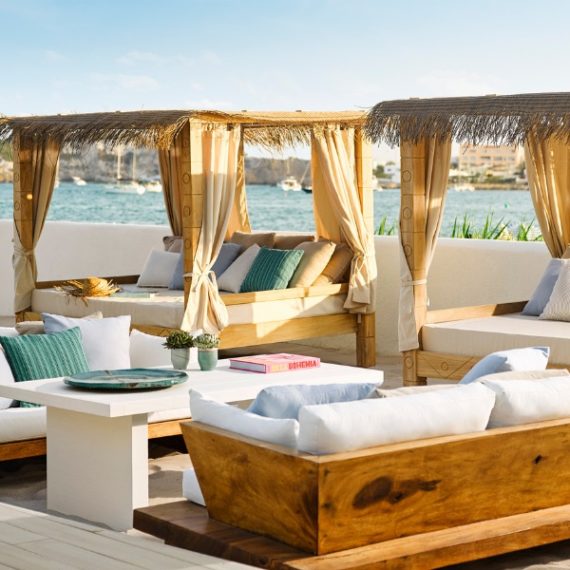 As new parents, we had no idea how to plan a trip suitable for a toddler, let alone one that we ourselves would enjoy too. OROKO gave us the expert knowledge we needed.
Tessa & Tom