Conservation in the Wilderness, a conversation.
Let's start a conversation on conservation.
As we continue to evolve as world explorers, we begin to ask the big questions, answers to which we once never even considered. In recent years, those questions primarily revolve around sustainability and conservation. To continue our conversations with leaders in the field of eco-tourism, we start a dialogue with Dr Neil Midlane, Group Impact Manager at Wilderness Safaris, a leading provider in sensational luxury safari experiences in Eastern and Southern Africa. We want to dig deeper into the workings behind the operations, where high-end eco-tourism is used to fund conservation in the worlds' greatest open plains and national parks. Neil is a leader in his field, and he holds a PhD in lion conservation in the Kafue, so there is no better man for the job.
We begin a dialogue that takes us from Wilderness' inception to the present day and puts into perspective the hard work and determination involved in conservation, measuring efforts and ensuring future success. Conservation by definition means the careful preservation and protection of something, and Wilderness dedicates its life to preserving the world that inspired its existence. To understand the true essence of conservation, we delve into Wilderness' marvellous undertakings like the major black rhino move of 2014, the Wild Dog Dispersal Project and the ongoing Conservation Heroes Covid Relief Project.
Botswana Black Rhino Project & The Wild Dog Dispersal Project
So, let's start at the beginning, the vision behind Wilderness Safaris and how it has evolved throughout the years. Neil tells us the fascinating story behind its inception, which began in Botswana in 1983. "Two young guys who had a passion for adventure and wilderness disappeared off taking mobile safaris into the Okavango Delta. At that time, no one was really doing that, Botswana had some hunting operations but there was nothing in the way of photographic tourism, and they were totally blown away by the place when they got there. I think they recognised the potential to bring photographic tourism into this incredible landscape." He explains that back then, it was not the norm to invest in Botswana, you would usually have your operations in South Africa, and you went in and out from there. "But I think they recognised very early on that for these places to survive in the long term, they needed to be benefitting local people in Botswana, which is why they started their operation there. And that kind of thought process of local people benefitting from conservation tourism has really permeated through the business ever since, and it really drives what we do right up to today." He explains that the main change since its inception has been the sheer scale of the operation, but the underpinning foundations and mission remains the same.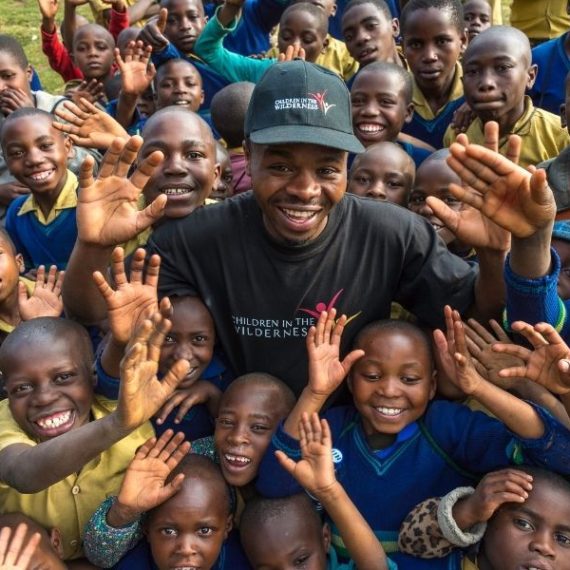 "I think they recognised very early on that for these places to survive in the long term, they needed to be benefitting local people."
Neil describes how it was back then, when there were triangular pup tents and beans on toast if you were lucky. Now, Wilderness Safaris are leaders in their field and boast some of the most sensational eco-tourism camps across Southern and Eastern Africa, from Bisate in Rwanda to Little Mombo in Botswana, the spiritual home of the Botswana Rhino Reintroduction Project. Wilderness camps have evolved to the top level of everything they do; experiences, wildlife, sustainability and conservation.
Botswana, the original case study.
Neil explains the benefits of Wilderness' long-standing presence in Botswana, running close to 40 years. "I think one of the benefits we have in Botswana is our long history there… and we'd really pioneered this high-value, low-volume eco-tourism, so by doing it there for so long, we were able to show the government that this is a way of really creating economic value out of these pristine conservation areas without damaging them." He explains that if you go for the high volume option at a lower cost, you ultimately end up in a situation where the environment gets damaged, "I think that's been one of the biggest realisations… that over-tourism has destroyed the essence of what those places were about." Using Botswana as their example of successful eco-tourism, Wilderness proved that not only is it possible, but it is also successful. Eco-tourism is all about employing locally, investing back into the communities, investing in conservation and contributing to the local government.
So, we ask, how do you successfully expand your operations? Neil explains, "That success, and the way that rolled out into the other countries we operate in, that set us up into a position where we could speak to the Rwandan government on that basis and help them develop a tourism model along the same lines of what's been so successful in Botswana." Neil tells us that the Rwandan government was incredibly receptive to it, that they've been very proactive and have reached out to leaders in eco-tourism and have adopted the same approach as Botswana. Like Neil says, "We've got the track record to show and demonstrate that this model works."
How do you measure efforts and ensure future success?
It is as important to protect now as it is to ensure our future generations continue to protect. Wilderness works to achieve this in various ways, such as supporting the Children in the Wilderness Program, a non-profit organisation that aims to facilitate sustainable conservation through leadership development and the education of children in Africa. This is achieved in many ways, from Wilderness Safari camps to Eco-Club programmes hosted at local schools. The benefit of this operation is huge, as it means transforming people's lives and their attitudes towards wildlife, conservation and the environment.
The big question is, how do you measure success and which measurements are really valuable? It is a huge ambition that Wilderness undertakes daily, and an even bigger task to record each of their projects and make sure that they are truly making an impact. So far, they have positively impacted the lives of 10,000 children through their efforts, with 3,300 of those children taking part in weekly eco-clubs. Not only protecting the youth of today, but Wilderness also ensures that their staff are offered the best opportunities for growth and promotion. They enlisted the services of Lobster Inc, which enables their staff to learn new skills and train for different job roles, through undertaking a variety of courses and qualifications.
From a wildlife perspective, wilderness helps support the conservation of about 2.3 million hectares of land in Africa.  Alongside protecting these species, they undertake the mammoth task of measuring their impact and numbers. "We measure a number of species that are protected in that area, including over 56 species that are on the red list". The total number of species protected at Wilderness is astounding, with over 1,000 bird species and 250 mammal species. "And so those are kind of how we benchmark the footprint we have in the biodiversity conservation space."
Conservation at its finest.
Sometimes, when we hear of certain wildlife projects, we never quite imagine how it is successfully completed. For example, what does reintroducing rhino look like? Wilderness began protecting and rehoming rhino back in 2001, continuing today. 2014 was a major year for the black rhino move. This is when Wilderness Safaris, in partnership with the governments of Botswana, South Africa and Zimbabwe, successfully completed the largest ever cross-border translocation of critically-endangered black rhino, a collaborative project that has grown to become one of the most important translocations ever undertaken in the history of conservation. Neil tells us the incredible story, "it was a partnership between ourselves and the government of Botswana, and obviously a number of donors and other people who supported it. But without their support, it would never have happened, and one of the reasons is the logistics. I mean, you know a black rhino bull can weigh in at 1.4 tonnes and a white rhino up to 2 tonnes, so these are huge animals and to move them long distances, the only safe way to do it is in an aircraft and the only aircraft that can do that is a big cargo aircraft." He educates us on how massive this operation is and that it is simply not possible without the support of the government. First, you must find the source population, then you need to source veterinary teams, helicopters, vehicles and people. "This is a very risky operation, as you need to dart the rhino, transport it over long distances and then get it into remote parts of Africa, such as the far reaches of the Delta."
Unfortunately, rhino poaching has affected Botswana in the last couple of years and Neil tells us that there has been a significant increase in poaching rates in and around the Delta. One of the reasons these huge operations take place is to provide rhino with a safe haven, but Wilderness continue to strive to end poaching and to continue to support the local governments wherever their operations are undertaken. From monitoring teams on Chief's Island, Botswana to working closely with the Rhino Trust in Namibia, Wilderness continue to do their very best to protect the wildlife that are part of their livelihood.
Wild dogs, also known as the painted wolf, are incredible creatures with fascinating habits, so we ask Neil about a study carried out with support from the Wilderness Wildlife Trust on the wild dog population and habits in the Kalahari area. He explains that the Delta and the Kalahari all fits into the Kavango-Zambesi Transfrontier Conservation Area, an enormous conservation landscape that covers five countries; Botswana, Zambia, Zimbabwe, Angola and Namibia. A function of that transfrontier area is to enable and protect corridors for the dispersal of species, be it elephants, lion or wild dog. Neil explains further, "In order to understand where those corridors are and where to protect, you need to understand what areas animals naturally use to move between regions." Knowing where those animals move and where the risks are is crucial, as it allows you to mitigate those risks, a critical part of enabling that population to survive. Neil tells us that wild dogs in particular cover enormous areas. As populations and agriculture grow, those corridors can end up getting closed off or becoming riskier. The researchers of the Wild Dog Dispersal Project, in partnership with Wilderness' Wildlife Trust, fitted satellite tracking collars onto several wild dogs, quite often young dogs just before they were about to disperse. "The data that's come out has been pretty amazing, they're moving between countries at will… I think the longest dispersal was more than 400 km, when a dog moved from the eastern side of the Delta to the Deka Safari Area, which is far to the east of Hwange, in Zimbabwe." An amazing ongoing project, it shows that these corridors are still there, and these animals can move through them. Our job is to reduce that difficulty and mitigate the risks they may face.
Wild Dog Dispersal & Black Rhino Move of 2014
Sustainability to impact.
A buzzword, and rightly so, sustainability always should come into the conversation of travel. It is undoubtedly overused and presented as a sales tactic by many companies, but we must remember that sustainability is fundamental to our existence and must become part of our everyday lives. As we move to discuss sustainability efforts, Neil states, "these days in our industry, it should be in most industries, but especially with us as conservation tourism, this kind of sustainability work that we've been doing for a long time is truly a basic license to do business, you shouldn't be in this industry if you're not doing these basic practices." Wilderness has both informally and formally been practising sustainability for a very long time. "One of the things we started way back in 2012 was trying to reduce plastic bottle use for drinking water, and we cut that down by 86% from 2012 to 2020." Neil tells us that this percentage will increase in their next report, as they invested in sparkling water carbonators in January 2020, eliminating the need for plastic bottles of sparkling water. A marvellous initiative, Wilderness has saved over 3 million plastic bottles going to landfill since 2012.
Another aspect of Wilderness' war on waste is reducing cling wrap. "When you start doing the calculations, it's pretty insane, about 1,200 km of cling wrap a year that we've removed from the system, and those kind of numbers – the individual who's just wrapping up a meal never thinks of that, but you start adding up the scale of the whole business you realise how much it is." Wilderness also separates waste in all camps, where possible, but some camps are so remote that this becomes extremely challenging. In areas such as these, Wilderness take part in a variety of projects, like glass crushing initiatives with local communities, which is then used as a substitute for sand in laying bricks, reducing the use of river sand in construction.
18 of Wilderness' camps are 100% solar-powered and 30 more are on a solar and generator hybrid. Due to some of their camps' remoteness in the wilds of Africa, sustainable practises such as vegetable gardens and using local produce are not always possible, in fact, that is one of the reasons these destinations still thrive for wildlife. If these very places could grow produce easily, then more than likely, they would have been repossessed for agricultural purposes. "And in some areas, we also are faced with restrictions, where you are not allowed to grow alien plants within a protected area, so we can't create food gardens, the legislation doesn't allow it. But wherever possible, we work with communities to produce food for us."
The environmental impact of our industry.
Tourism and travel often get a bad name when it comes to sustainability. What we are trying to help bring to light is that eco-tourism can bring so many benefits to places that may otherwise be destroyed. "I think the reality, and Covid has brought this home to us, is that without these tourism businesses in Africa in particular, in these protected areas and wilderness areas, the economic value of these areas disappears, and the end result of that would be a massive loss of biodiversity in these places. Other less biodiversity-friendly land uses would take over, be it agriculture or livestock or some other form of development." Neil couldn't say it better, without our efforts to help these destinations and make these efforts economically valuable, the safari world we know and love will soon disappear.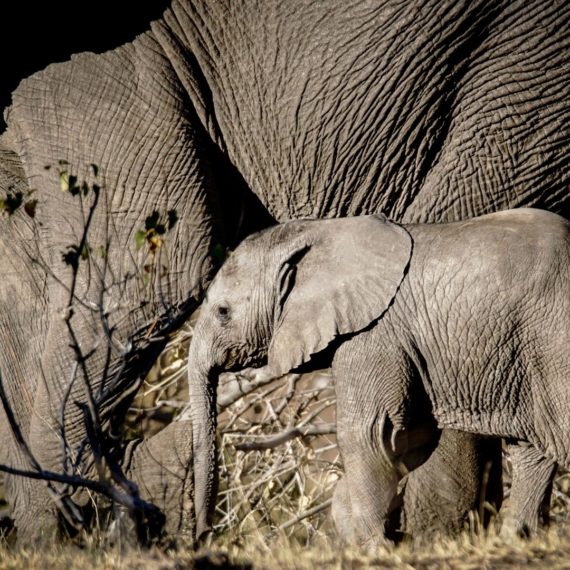 "If you're going to travel long-haul, travel to these places, where your carbon footprint is far more justifiable because of the positive conservation and community impact you're having on the ground here."
As we ask Neil about another sensational project they've been undertaking, Conservation Heroes Covid Relief Project, this becomes even more apparent. At the beginning of the pandemic, Neil and the team sat down and not only discussed the implications it would have on the business, but what implications it would have on the people. "We felt at the time that the biggest challenge was going to be that people that were employed in the industry or were earning a living through the industry." This would undoubtedly lead to hunger, and desperate times lead to desperate measures, such as poaching. No one would begrudge or judge, but it could crush the very ethos of Wilderness. "We've spent 40 years building relationships with people and communities, showing them the benefits of eco- tourism, and all that work could quickly go down the drain in a situation like this, so it was a critical intervention." Wilderness embarked on a very difficult yet extremely rewarding project of donating food to the people who needed it most. As of September 2021, they donated almost 16,000 food parcels to help 80,000 people in 35 different communities across the six countries they operate in, and they continue to do so. They strive to help the communities and use their logistical capabilities to get to these remote places.
Neil makes it ring clear to us how beneficial eco-tourism; "That just goes back to our point earlier, about people flying internationally, and the environmental impact of that. This is part of not travelling to places like this."
Conservation, the moving parts.
Educating ourselves on our impact.
At OROKO, we continuously strive to educate ourselves and our guests on the best way to protect mother earth. Not only is it our duty to be aware of the impact our actions have on the world, but to ensure we do our very best to protect it. Safaris are so dear to us, enabling us to interact with people from faraway lands, discover true remoteness and of course, experience the thrill of witnessing wild predators and prey in these magnificent destinations. From the jungles of Rwanda to the savannah plains of Kenya, the riverbeds of Zambia to the starry nights of Namibia, we've been fortunate enough to create some everlasting memories in Africa and believe us when we say, the world's worth protecting.
OROKO would like to extend a huge thank you to Wilderness Safaris for taking the time to teach us about conservation in the wilds of Africa, and of course for taking the responsibility to conserve destinations that are truly magical. To learn more about Wilderness Safaris, please visit https://wilderness-safaris.com/. Partnering with Wilderness, OROKO offers tailored sustainable holidays and experiences to include these wondrous camps and lodges as we transport you to the plains of Africa. The OROKO team have visited many of the Wilderness camps and our fantastic partnership with Wilderness allows us to provide our customers with the best value, best managed luxury itineraries to southern and eastern Africa.